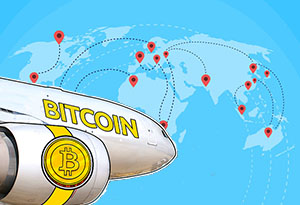 Cryptocurrencies are increasingly impacting the global economy. To date, its employment has spread so much that the same serves to pay the payroll of a football club to buy a plane ticket. Airlines and travel agencies have understood all the advantages and functions of Blockchain technology and many now accepts Cryptocurrencies as a method of payment in the process of booking and buying an airline ticket online. In this article we propose you approach 6 travel agencies that sells tickets in Bitcoins, without doubt the most used Cryptocurrencies today.
Travel Agencies who accept Bitcoin
CheapAir
It's a travel and tourism company based in California, USA, founded in 1989. From 2013, it began accepting payments in Bitcoins, so it is considered as one of the first in the world that accepted this form of payment.
On the agency's website it is possible to buy flights with Bitcoins to any destination in the world through the main airlines. In addition, CheapAir offers accommodation in hotels and car rental.
Destinia
This is a Spanish based travel agency, created in 2001 and accepting payments in Bitcoins since 2014, although it specifies that only for services or products purchased directly through its website, so they exclude cruises, car rental and certain hotels that only admit payment at the reception, or flights where the airline only accepts payment by credit card.
An interesting aspect of Destinia is that it indicates the tariffs of the flights and itineraries in Mili-bitcoin (MBTC), making it easier for the users and more convenient when showing the prices.
Expedia
This is one of the largest travel agencies in the world. From 2014, it joined Coinbase to permit the purchase of airline tickets, as well as hotels reservation in Bitcoins.
As a major detail: on Expedia, Coinbase makes payments easier, but customers are asked to complete the transaction within a maximum period of 10 minutes as the exchange rate may vary at that time. In addition, the company stipulates that transactions are irreversible.
Travelforcoins
This website was created in California in 2013 and permits you to book a flight or a hotel room and pay in Bitcoins, which today is the only Cryptocurrency accepted on the platform.
AbitSky
This web site belongs to the company UAB Interneto Partneris, based in Lithuania, and permits us to make flights, hotels reservations and car rental in Bitcoins. The payment procedure is made through BitPay or Coinbase.
BTCTrip
This is a New York based company, created in 2013 and currently permits the buying of airline tickets and hotels reservation in Bitcoins, Dogecoin and Litecoin.
Risk warnings
The views and opinions expressed are the views of Crypto Currency 10 and are subject to change based on market and other conditions. The information provided does not constitute investment advice and it should not be relied on as such. All material(s) have been obtained from sources believed to be reliable, but its accuracy is not guaranteed. There is no representation or warranty as to the current accuracy of, nor liability for, decisions based on such information.
Changes in rates of exchange may have an adverse effect on the value, price or income of an investment.
Past performance is no guarantee of future results and the value of such investments and their strategies may fall as well as rise.