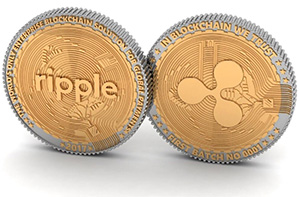 Ripple is a cryptocurrency established in 2012, since has maintained a very stable quotation from that time until March 2017 when the price started at USD 0.04 until it reached a maximum price of USD 2.40.
Ripple is building an innovative platform based on the blockchain technology for connecting banks, financial operators, digital currency and title exchanges ad big businesses so that they can make secure, rapid and low cost international transfers. At present, making an international payment can require from 2 to 5 days and, depending on the number of banks participating in the operation, it can also be fairly expensive. The solution proposed by Ripple is without a doubt extremely competitive because with the technology it has developed, the transfer takes place at maximum in 4 seconds with a cost of just a few USD cents.
Ripple's ambition is also that of unifying international exchanges around a single currency, the Ripple, dealt with in the marketplace with the abbreviation XRP.
Ripple does not need to be mined
The XRP has the peculiarity of not being mined since all the XRP already exist, even though they aren't all in circulation. The total amount of Ripples was established in 100 billion pieces, of which 39 billion are presently in circulation, another 7 billion are owned by the Ripple Company and about 54 billion have been put aside in a provision of guarantee from the amount of one billion pieces will be extracted monthly, to be placed on the market. In the case that the market will be unable to absorb the entire monthly amount, the unsold amount will be withdrawn, and the sale will be repeated the following month. This mechanism makes us think that in normal market conditions, it will be difficult for the XRP to make big leaps to then be consolidated, because the number of pieces being offered will always be consistent. Therefore, the XRP, for those who believe in the technology and in Ripple's project, it can be seen as a long-term investment, whereas those who love "scalping" will have to be fairly shrewd and deal with taking advantage of the fluctuations of the market, in the scope of very short time spaces.
Do you want to invest in cryptocurrencies?
We offer you the weekly portfolio CryptoFIB30, in a PDF format. A portfolio of cryptocurrencies with high earning prospects, suggested by our staff (the dates and purchase prices for the reported crypotos in addition to operative signals - when to sell or keep - are indicated).
Bitcoin Future: for those who prefer, instead, to follow the derivative, Bitcoin Future is analyzed, quoted on the CME, with the indication of important levels and operative targets of purchase/sale with a weekly perspective.
Pay
Risk warnings
The views and opinions expressed are the views of Crypto Currency 10 and are subject to change based on market and other conditions. The information provided does not constitute investment advice and it should not be relied on as such. All material(s) have been obtained from sources believed to be reliable, but its accuracy is not guaranteed. There is no representation or warranty as to the current accuracy of, nor liability for, decisions based on such information.
Changes in rates of exchange may have an adverse effect on the value, price or income of an investment.
Past performance is no guarantee of future results and the value of such investments and their strategies may fall as well as rise.