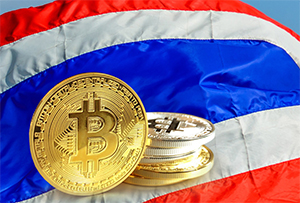 Thailand seems to be opening a new path to selling tokens, as the first initial coin offer (ICO) by a company on the Asian Stock Exchange began to be quoted in two local markets. However, the financial regulators of that nation continue to work on creating a legal framework for the sale of tokens and Cryptocurrencies.
The J Ventures Limited, which is a subsidiary of Jay Mart PLC, launched its ICO, which was called Jfin. The mother company, which is listed on the Thai Stock Exchange, operates in wholesale and retail sales in the mobile telephone and accessories sector. Jfin's pre-sales went on the market with a rate approximately 0.21 USD per token and was sold immediately.
The ICO debuted in the Local Coin Asset Exchange, with a rate of 6.45 baht (local currency), but fell immediately to only 3 baht, until it managed to recover gradually and, currently, is quoted at 3.94 baht (0.12 USD).
Analysts believe that J Ventures made a strategic error, because initially it was expected that the tokens would be marketed in a much more important exchange in the Cryptocurrencies market, such as Thai Digital Asset Exchange; However, the company decided at the last minute to work with Coin Asset, which has a much lower liquidity and this could have caused the rapid decline in quotation.
To improve its performance, Jfin also began to be quoted on another local platform, Cash2coins; In addition, the CEO of J Ventures, Thanawat Lertwattanarak, said that Jfin will also be marketed on the HITBTC site in Hong Kong and Upbit in South Korea, in the near future. However, analysts believe that the extension to the Korean platform is unlikely, as it currently faces serious problems and are being investigated by the authorities of that country, for alleged fraud.
This and other initiatives have involved the Thailand Ministry of Finance, which has tried, through various mechanisms to stop the uncontrolled issuance of ICO. The biggest threat to companies has been to impose a tax on capital gains and value added. Thai regulatory authorities expect the Security and Exchange Commission to be responsible for controlling the ICO market and other types of digital tokens. One of the points already covered in future legislation will be the application of the KYC (know-your-client) digitally, in order to prevent suspected criminals and money launderers from using the new possible forms of financing.
Do you want to invest in cryptocurrencies?
We offer you the weekly portfolio CryptoFIB30, in a PDF format. A portfolio of cryptocurrencies with high earning prospects, suggested by our staff (the dates and purchase prices for the reported crypotos in addition to operative signals - when to sell or keep - are indicated).
Bitcoin Future: for those who prefer, instead, to follow the derivative, Bitcoin Future is analyzed, quoted on the CME, with the indication of important levels and operative targets of purchase/sale with a weekly perspective.
Pay
Risk warnings
The views and opinions expressed are the views of Crypto Currency 10 and are subject to change based on market and other conditions. The information provided does not constitute investment advice and it should not be relied on as such. All material(s) have been obtained from sources believed to be reliable, but its accuracy is not guaranteed. There is no representation or warranty as to the current accuracy of, nor liability for, decisions based on such information.
Changes in rates of exchange may have an adverse effect on the value, price or income of an investment.
Past performance is no guarantee of future results and the value of such investments and their strategies may fall as well as rise.