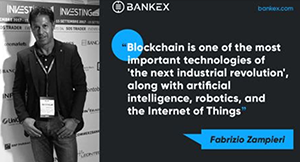 Italian economist and financial adviser Fabrizio Zampieri discusses blockchain's potential impact on the financial industry and what to watch out for when dealing with cryptocurrencies.
Fabrizio Zampieri has a degree in Business Administration from the University of Venice, and after that got a Masters in Banking and Financial Sciences from CUOA Business School (Italy). He became interested in the world of cryptocurrency about 3 years ago and now his principal work is cryptocurrency and Blockchain adviser.
His areas of expertise are:
analysis and study of financial markets;
exchange rate risk and financial instruments management;
multicurrency treasury management;
cryptocurrencies markets and analysis.
Zampieri: The future of the cryptocurrencies Industry
Q. Why did you become a BKX token holder? What caught your attention about BANKEX? What would you suggest that we improve?
A. In my work (and for my hobby) I often study new ICOs and in October 2017 I found Bankex. In November 2017 I joined the public sale. Bankex caught my attention because one of the most unique features of this project is that it is able to tokenize financial assets. Through the Bankex platform, it is possible for buyers, banks and other financial entities to exchange products. But above all, Bankex will enable investors to solve issues of asset liquidity, which we all know is a primary cause of the slowing of economic progress. Although the Bankex Proof-of-Asset Protocol is efficient and evolutionary, the potential impact on existing financial systems is not fully known. In my opinion is necessary to increase advertising and information campaigns in order to increase Bankex's visibility in order to spread knowledge of these new financial possibilities.
Q. What are your thoughts on the future of the crypto industry and the current situation in the market?
A. First of all, take Blockchain; just like many other people I think Blockchain is one of most important technologies of the next "industrial revolution", alongside artificial intelligence, robotics and the Internet of Things (IoT). Cryptocurrencies will follow and develop according to Blockchain. I also believe that cryptocurrencies have the power to transform financial systems and solve traditional problems such as liquidity and transparency. For example, the peer to peer systems are able to make transactions easier, quicker and safer. But we must pay attention to:
The large number of ICOs, marketplaces and platforms that are being developed across the Internet. Not all of these projects bring real benefits to the crypto community; The fact that cryptocurrencies are perceived as competitive or even incompatible by the majority of centralized banks and financial institutions. Therefore, in order to safeguard profits and control over customers, the traditional financial community is generally in favor of repressive regulatory action against cryptocurrencies. It is easy enough to see this through the smear campaigns currently conducted by an impressive array of bankers, businessmen and politicians.
Movie Coin is coming
Q. Have you heard of MovieCoin? This is our most recent partnership. MovieCoin is a next-generation entertainment industry financing platform built on Blockchain technology.
A. I actually have heard of the recent Bankex partnership with MovieCoin and so I decided to do some research. I found it to be a very interesting and original idea. MovieCoin is launching a blockchain-based financing project for qualified investors to contribute money to new films, TV and other entertainment projects. In short, MovieCoin plans to issue cryptographic tokens to raise capital that will be invested in different entertainment industry assets. They will accomplish this through Bankex's tokenization technology.
Do you want to invest in cryptocurrencies?
We offer you the weekly portfolio CryptoFIB30, in a PDF format. A portfolio of cryptocurrencies with high earning prospects, suggested by our staff (the dates and purchase prices for the reported crypotos in addition to operative signals - when to sell or keep - are indicated).
Bitcoin Future: for those who prefer, instead, to follow the derivative, Bitcoin Future is analyzed, quoted on the CME, with the indication of important levels and operative targets of purchase/sale with a weekly perspective.
Pay
Risk warnings
The views and opinions expressed are the views of Crypto Currency 10 and are subject to change based on market and other conditions. The information provided does not constitute investment advice and it should not be relied on as such. All material(s) have been obtained from sources believed to be reliable, but its accuracy is not guaranteed. There is no representation or warranty as to the current accuracy of, nor liability for, decisions based on such information.
Changes in rates of exchange may have an adverse effect on the value, price or income of an investment.
Past performance is no guarantee of future results and the value of such investments and their strategies may fall as well as rise.